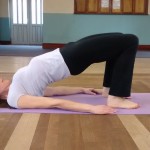 Yoga, Mindfulness and Relaxation Classes on Mondays in Spalding
At Moose Hall, Love Lane,
From 9:15am-10:30am as follows:
October: 7th, 14th, 21st, 28th (Restorative). 
November: 4th, 18th, 25th (Yin).
December: 2nd, 9th, 16th (Restorative).
Please note: There will be no classes on 11th November.
Cost for October is £24.00, and for the November/December term is £36.00, payable in advance, although if you are new to my class, I recommend that you come along on a 'pay as you go basis' for a couple of weeks (£6.00 per session), before deciding whether to commit to the rest of the term. 
Before you decide whether or not you would like to try my classes, let me tell you a little about yoga:
Yoga is so popular because it can be practiced by anyone, regardless of age, health, gnder or culture, because all qualified yoga teachers are taught how to modify yoga postures according to the needs of the individual. This means that whether you have a dodgy back or dicky knees, you can still participate fully in the class. Yoga is completely non-competitive and comprehensive instructions are always given by your teacher, therefore no previous experience is necessary. With yoga you literally learn as you go along! The benefits of yoga are numerous and include improved flexibility, concentration, breathing and ability to relax.
If you feel that you would like to take part in a yoga class, or would like some more information before you decide, then please do contact me:
Telephone: 07817623330, email me at freetothinkmail@aol.com or on Contact Sarah. Much more information about yoga is available on my Yoga page.