So wonderful to see Irene from Agape, co-ordinator of our local food bank, and Helen and Elaine from Spots looking quite stunned, and then excited, when they received their cheques from the first Spalding Yogathon, which raised a total of £1,920.00.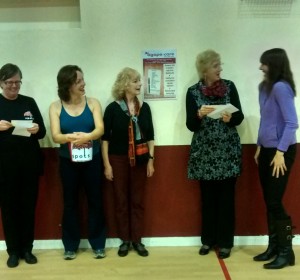 When we asked Helen what their money might be spent on, she said that the committee would need to decide, although some of it may well go towards a trip to the theatre for some of their children and young people.
I asked Irene the same question, and she explained that more money in the pot will give them more buying power.  Irene said that now they would be able to order food online in bulk, and get free delivery, as well as saving money on bulk buying.
So a huge thank you to everybody who has been involved in the event: participants, sponsors, donors. You have all made a great difference to two very worthy local charities!
… So who wants to do it all again next year!
For more information or to contact either of the charities go to:
Agape: (http://www.agapecare.org.uk/), and Spots: (https://www.facebook.com/pages/The-Umbrella/584004308285288).